Table of Contents
As two of the most popular types of cannabis extracts available on the market, a lot of cannabis consumers want to know more about these concentrates.
What makes rosin and shatter different? Which one gets you higher? Here's everything you need to know about these cannabis concentrates – and where you can get some for yourself to try.
What is Live Rosin?
Rosin is a cannabis concentrate that is known for containing a high concentration of extracts from the cannabis plant. Rosin is recognizable by its pasty, batter-like, and waxy consistency and appearance. It's often amber-colored.
Live rosin is made by extracting cannabinoids through the use of solvent-less methods. The extract is produced by using heat and pressure on the cannabis plant. The materials are compressed, producing hot oils. 
The resulting product will contain a range of THC, delta 8 THC, terpenes, CBD, or more.
What about Rosin vs. Resin?
What about the difference between rosin and resin? These two extracts are about as different as their spelling: slightly. Both live rosin and resin are created using the fresh plant matter of cannabis plants.
The difference between resin and rosin is the method of extracting cannabinoids and other useful materials. Resin is made with a solvent-based extraction method, while rosin is made using a solventless method. Therefore, unlike live resin, live rosin is free of solvents.
What is Shatter?
Shatter is another cannabis extract that's known for its distinct solid yet brittle consistency. The name "shatter" comes from the product's similarity to broken glass.
The appearance of shatter varies from translucent to dark yellow to amber and olive in colour. It can also vary in consistency from hard and glass-like to a stretchy wax-like material that snaps when pulled. The differences in appearance are determined by the method of extraction.
Shatter is made in the method of other cannabis concentrates – through cycles that delicately purge the solvents used in the manufacturing and extraction of the original plant-based material.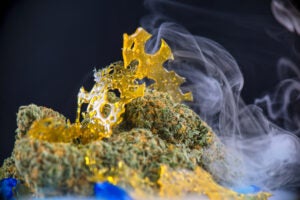 Cannabis Extracts: What You Need to Know
We've all seen cannabis in its original form – harvested flowers we often call weed or bud. But in recent years, concentrates have become a sought-after cannabis option. These products remove the unnecessary components of the plant, giving a more "concentrated" experience of the cannabis.
Cannabis concentrates are made from the cannabis flower. They are formed as a concentrated substance that can be made from the plant in various ways. Concentrates utilize only the more useful parts of the plants – discarding parts like the leaf, stem, and other materials.
Instead, you get only the good stuff: the flavours, the smells… and the effects.
Cannabis extracts refer to concentrates that are derived from plants using either solvent-based of solvent-less extraction methods. The process extracts the trichomes and other chemical substances from the plant. 
You may know some of these extract products such as distillates, resin, oils, and shatter (solvent-based) and sift, live rosin, and hash (non-solvent based).
The Benefits of Cannabis Concentrates and Cannabis Extracts
Extracts such as rosin and shatter are liked by cannabis enthusiasts thanks to their higher concentration of cannabinoids. Cannabis extracts, when processed from the cannabis plant, will contain a higher ratio of THC and/or CBD.
Some of the benefits of buying cannabis concentrate or extracts rather than flower include
Higher quantities of terpenes and cannabinoids.

They have a longer shelf life.

Optimal experience of the plant's effects.

More "bang for your buck" with less product and more potency.

Can kick in faster than smoking.

More diverse in terms of consumption methods – and can often be smoke-free.
With cannabis extracts, you get more of the stuff you really want from your cannabis product. For example, they have a higher concentration of trichomes (crystalized glands on the plant that contain cannabinoids and terpenes). 
Live Rosin vs Shatter: Which is Better?
Now that we've gone over the basics of live rosin and shatter let's dig into which of these concentrates is better. To determine which product you should choose, here's what you need to know about how to use rosin and shatter, the potency of these extracts, and the value of each.
Consumption
Shatter gets a huge plus here. Due to the varying consistency of shatter, there is a range of ways that this concentrate can be consumed. Shatter can be smoked with a dab rig, smoked in a joint or spliff, added to a bong, consumed through a vape pen, or dabbed with e-nails.
Shatter gives consumers plenty of choices when it comes to consuming – and you can often use it with accessories or other products you already have at home.
Live rosin is another cannabis extract that can be consumed in a number of ways. The best way to consume live rosin is by dabbing, vaping, or sprinkling it into a joint or bowl. However, an added bonus with rosin is that it can be consumed orally. You can add live rosin to edibles or warm drinks like tea or coffee.
Potency
Shatter is known to offer a high concentration of cannabinoids – meaning that the potency per amount can be much higher than other forms of smoking or consuming cannabis. Simply put, it will get you good and high.
Many shatter products have a THC percentage of 80 or higher. On average, the potency will range from 50 to 90% THC. The effects will also kick in relatively quickly, so waiting for the high is never an issue. Whether this high potency level is a pro or a con depends on your goals for your sesh! 
Live rosin is also created with a method that preserves most of the cannabis plant's terpenes. This means that the potency is, likewise, high. Live rosin has a relatively high THC percentage, with an average of around 75% to 80%.
The THC level and concentration of live rosin, however, depends on the exactness and precision of the extraction process and, therefore, can vary from product to product.
Price and Value
Both live rosin and shatter are comparable when it comes to price and value. These solvent-less cannabis extracts are popular because, unlike some pricier options, they won't break the bank. In fact, concentrates often give you a lot more for your money, thanks to the concentrated levels of THC and CBD found in products such as shatter and rosin.
That said, value is relative! And while you will get a lot more kick for your investment, some live rosin products can still cost you. The process of creating solvent-less concentrates can be labour-heavy and you'll see that reflected in the price of high-quality cannabis extracts.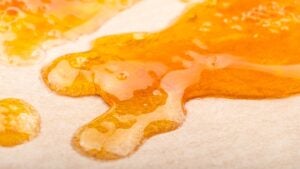 Buying Shatter and Rosin Online
Both shatter and rosin are available online from weed dispensaries. Here are some cannabis extracts that are worth trying.
If you're not sure which shatter to buy, you can also go for a shatter mixer, which lets you pick 4 different brands or strains of shatter in one package.
Live Rosin vs. Shatter: FAQ
To determine which is better – rosin or shatter – let's break down a few of the most common questions that people have about these two popular cannabis products.
Does live resin get you higher than shatter?
Both live resin and shatter contain a high concentration of terpenes and cannabinoids. These cannabis extracts will both get you high, with the levels of THC hovering around 70 – 90%, depending on the method of extraction, strain, and product.
What is the best form of concentrate?
The best type of concentrate depends a lot on preference. But in terms of the preservation of terpenes, the extraction method used for extracts such as wax and shatter possesses one of the best processes for maintaining potency.
Should Rosin be refrigerated?
Extracts that are created using a solvent-less extraction method (such as rosin) need to be kept in a cool place. Keeping your concentrates in the fridge will keep them useable and potent for longer.
Is crumble better than shatter?
Crumble (a wax-like concentrate) is very similar to shatter. The difference is the consistency and extraction method. For some consumers, wax seems to preserve a more distinct flavour profile than shatter. However, the distinction is subjective, and both extracts contain similar levels of potency and profiles.
The Shatter vs. Rosin Debate: Final Thoughts
Which is better, shatter or rosin? That all depends on what it is you're looking for in your cannabis experience. Both of these extracts provide a potent high. They offer solvent-less extraction methods and various options for consumption. 
The difference between live rosin and shatter, therefore, comes down to preference. Whichever you choose, both of these cannabis concentrates will offer you a great high and plenty of good times.
Resources:
Leafly: What are Cannabis Concentrates, Oils, and Extracts
https://thelodgecannabis.com/blog/live-resin-vs-live-rosin/ 
https://420kingdom.com/blog/shatter-vs-wax-vs-crumble/#:~:text=Technically%2C%20crumble%20is%20a%20type,noteworthy%20distinction%20between%20these%20concentrates.