Table of Contents
No, we're not talking about the sweet sticky goodness brought to us by our friends, the bees. But it's just as good if you ask us. And in this article we are going to cover the best honey oil in Canada!
Honey oil is the cannabis concentrate everyone's been talking about. If trying a new type of cannabis concentrate is on your list of things to do, and you enjoy a good solid, potent product, honey oil could be for you.
Let's take a look at why so many cannabis consumers are clamouring to buy honey oil and where you can get the best honey oil products online.
What You Need to Know About Honey Oil
Before we get into the many uses and benefits of honey oil cannabis concentrates, let's go over exactly what honey oil is and where it comes from. Here's what you need to know about honey oil and how it's made.
What is Cannabis Honey Oil?
Honey oil, also known as "Hash Oil" is a popular concentrate made from cannabis plants. Honey oil has the potential to be a potent option for consumers, with 10% to 50% more THC (tetrahydrocannabinol) than dried cannabis flower products. As a versatile cannabis concentrate, honey oil has a variety of benefits and uses.
What Does Honey Oil Look Like?
You may have guessed where honey oil gets its name. The honey part, at least – it doesn't really look like oil. The concentrate has the clear, amber-coloured appearance of honey. It's a thick and sticky consistency that can feel like syrup.
Does Honey Oil Get You High?
Honey oil, along with other cannabis concentrates, has a high concentration of cannabis compounds and can have a higher potency than when you smoke. 
The extracted materials from the cannabis plant include terpenes – the chemicals responsible for characteristics like taste and colour, and cannabinoids such as CBD and THC responsible for the psychoactive and therapeutic effects of the particular strain.
So, honey oil gives consumers the whole, well-rounded experience of the plant's effects, and depending on the strain, it can get you high.
The Benefits of Honey Oil
Cannabis oil contains cannabinoids such as THC, CBD, terpenes, and flavonoids that give it a distinct potency and profile. 
The elimination of unwanted plant materials after extraction also gives cannabis concentrates a leg up. It has a purer profile that allows consumers to get the full experience of the plant's characteristics.
Here are some of the distinct benefits of honey oil compared to other cannabis products.
Higher potency levels give oils a better value in terms of affordability.

The variety of ways to consume and enjoy honey oil is endless.

Concentrates are stripped of unwanted plant materials such as waxes.

Cannabis oils can treat a variety of issues such as inflammation and anxiety.

Concentrates make dosing of THC and CBD easier and more precise.

Oils and other concentrates have a longer shelf life compared to

weed, which can go bad

over time.
How to Use Oil Products
Besides the many practical uses and effects, there are also multiple ways to consume honey oil. Thanks to its syrupy consistency, honey oil can be consumed in a variety of ways.
Some of the popular ways to consume honey oil include:
Consumed in edible cannabis products

Dabbed with a dab rig – or vaped from a hot knife

With pre-filled concentrate cartridges or syringes (for oral consumption)

Added to tea or warm drinks

Ingested with a snack

Add to a joint or bowl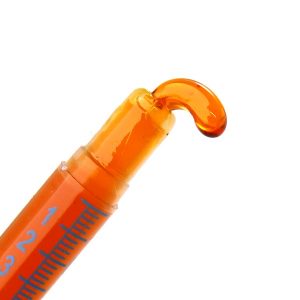 Another way to consume honey oil is to ingest it by squeezing a small amount onto your finger and eating it, or adding it to a snack like a piece of chocolate or pie.
As for the best ways to use honey oil, it's important to find your stride. Since cannabis products affect everyone differently, take your time and discover your perfect scenario.
For many honey oil consumers, taking the concentrate before bed is a good option. You can sit back, relax, and enjoy an indica-based honey oil. Start off with a smaller dose, waiting 30-40 minutes for the effects to set in. Then, you can up your dose as you see fit.
The Therapeutic Effects of Hash Oil
Honey oil has a range of benefits that appeal to a wide range of cannabis consumers. Concentrated levels of THC and CBD can have a positive effect on consumers for therapeutic uses. Here are some of the popular benefits of honey oil.
Reducing chronic pain

Management of anxiety and stress

Aid for sleep (insomnia)

Headaches and migraines

Reducing inflammation
Besides being pretty to look at, honey oil has ingredients and components that are known to help reduce chronic pain. In some instances, it's also great for helping to reduce inflammation. 
Honey oil is also a popular therapeutic aid for people dealing with insomnia, anxiety, and chronic stress. Some people also report that honey oil has helped them with chronic migraines.
How to Make Honey Oil
Like other cannabis concentrates, honey oil is produced through a method known as extraction. First, a solvent such as butane or ethanol is used to strip the cannabis plant of its useful trichomes.
Honey oil is made using the process of winterization, which cleanses the plant material and removes the waxes, fats, chlorophyll, and other plant materials. This process is also what gives the concentrate its amber hue and honey consistency.
Home-Made Recipes
Since hash oil is one of the less delicate extracts, you can actually make cannabis oil at home. It may not be the best honey oil in Canada, but with some practice you never know! The process is relatively simple and as long as you have the right ingredients and some patience, it can turn out great.
What you need to make cannabis oil at home:
Cooking pot

Wooden spoon

Cooking oil

Stove

Oven mitts
Start with a cooking oil such as virgin olive oil or coconut oil as a base. In your cooking pot, stir in and boil the buds of your favourite strain of weed in the oil. Turn the stove burner down to a simmer and let the pot sit at low heat for 30-40 minutes. 
Be sure to never let the oil burn to above 300 degrees.
After forty minutes, you should have yourself some DIY cannabis oil. Sure, there are some more complex methods for making hash oil, but this is a simple way you can enjoy canna oil at home using only your favourite cannabis strain.
What to do with your DIY oil? You can add it to whatever you're cooking for some added flavour or use it in baked goods. You might even want to take it a step further and grow the weed yourself – as long as you're in Canada!
The Best Honey Oil in Canada
Not sure where to start? Here are the products we rate as the best honey oil in Canada. Whether you're looking for full-spectrum, THC and CBD, locally grown, or 100% organic, this list of honey oil products has it.
1- Bonafide Honey Oil Syringe – Bonafide is a great brand for new and seasoned users alike. The organic THC full-spectrum indica honey oil is crafted to aid with pain management. It's non-GMO with no additives, tested for quality and consistency. 
2- Kootenay Labs Honey Oil – 1 Gram Syringe – A great option for price-conscious cannabis consumers, the Kootenay Labs Honey Oil is where it's at. It's made with quality cannabis flower  – and best of all, their THC and CBD distillates are whole-spectrum, and they use 90% organic ingredients with biodegradable packaging.
3- Bonafide – 1.0mL Honey Oil Refill Cartridge – These premium oil cartridges contain 100mg THC and other cannabinoids. Bonafide is very health-conscious, and there are no extra additives. It's a full-spectrum experience with all the cannabinoids and terpenes cannabis oil should have. All-natural, botanically derived, locally grown, 100% organic, non-GMO and made in Canada. 
4- Cannabis THC Oil Mixer (4 x 1ml) – The oil mixer pack is a great way to try a few different cannabis oils and see which type works best for you. This pack gives you the choice between 4 high-quality oils from Oro, Dark Side Dabs, and Haaze. You can pick from honey oil, cherry oil, and C02 oil. Not to mention it's a great deal!
In addition to these honey oil cannabis products, there are also other types of cannabis oil you might want to try.
Here are just a few cannabis oils to try:
Buy Honey Oil Cannabis Online in Canada
Honey oil has a range of benefits for anyone looking for either therapeutic or psychoactive properties found in cannabis. It's a fun and diverse way to enjoy cannabis. However you choose to try cannabis oil, honey oil is a great place to start.
Not sure which product to try? Browse the online cannabis dispensary for all the different concentrate products. Ordering cannabis online in Canada is simple, and Kootenay Botanicals online dispensary makes ordering and receiving your weed products fast and easy.
Sources:
https://www.wikileaf.com/thestash/cannabis-honey-oil/ 
https://www.getsmartaboutdrugs.gov/content/what-you-should-know-about-marijuana-concentrates-honey-butane-oil\