Table of Contents
Ordering weed edibles online provides the most convenient and easiest way of buying weed in Canada. I
You get to choose from a wide assortment of weed edibles with varying potencies. And you also get to compare the different products in an easy to organize format, at your own leisure, and in the comfort of your home.
In addition to these, you also benefit from the freebies and big discounts offered by online weed shops like Kootenay Botanicals.
But as a consumer though, do you know how to order weed edibles online the right and safe way?
This article guides you through the step-by-step process of ordering and buying weed edibles on the interwebs,
We'll also answer some frequently asked questions about weed edibles too!
The Complete Guide To Buying Your Edibles Online
You'll find many different types of weed edibles available online, from chocolate bars to gummies and candies of different forms, shapes, flavours, and even potencies.
They all look mouthwatering, but they're not all created equal.
So, as a consumer, you have to know how to choose one wisely.
What Are Our Favourite Edibles?
We've prepared for you three of our most favorite weed edibles and why they deserve to be on this list.
These are manufactured by some of the most trusted brands in British Columbia, so rest assured of their tastiness, potency, and quality.
Canndy Gummies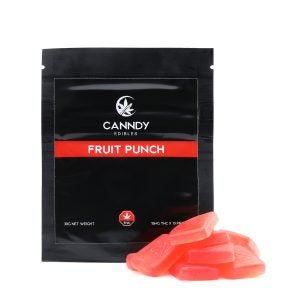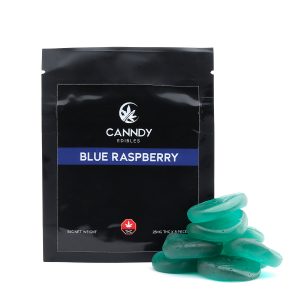 One package of Canndy Gummies contains eight gummies with a total of 200 mg of THC, each gummy having 25 mg of THC. They come in two fruity flavours — Cherry Cola and Blue Raspberry.
What we loved most about these gummies is that they deliver just enough kick to energize you and boost your mood. You won't lose focus with these ones; instead, you'll feel pretty relaxed and stress-free.
The careful dosing of THC and the fruity flavours will definitely make you a fan of Canndy's gummies, too.
Mota's Blue Raspberry Bottles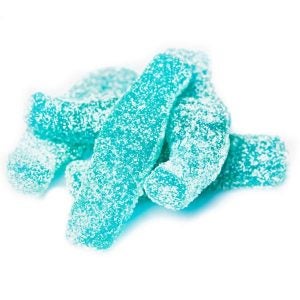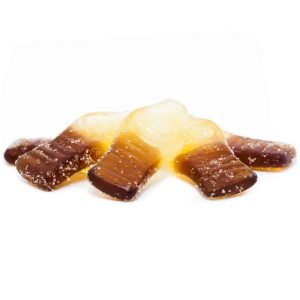 One package of Mota's Blue Raspberry Bottles gives you nine delicious pieces with a total of 300 mg of CBD. Each piece contains 33 mg of CBD.
This is one weed edible that's perfect for those who can't tolerate any amount of THC. Mota's Blue Raspberry Bottles contains zero traces of THC and is perfect for daily use.
It supports the immune system and also helps you maintain healthy mind and body.
Twisted Extracts' Jellies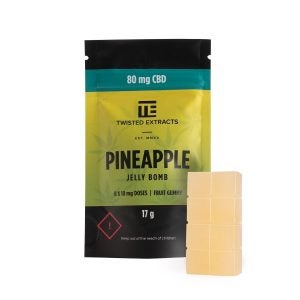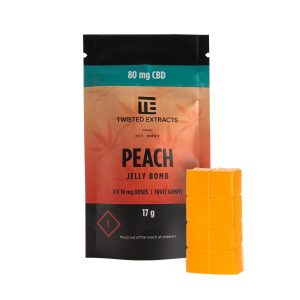 Looking for a perfectly balanced weed edible?
If you are, then Twisted Extracts' Jellies is exactly what you need.
This jelly bomb contains a total of 40 mg of THC and 40 mg of CBD and can be divided into eight delicious pieces, with each piece giving you 5 mg of THC and 5 mg of CBD. The dose is just right to give you a good buzz without affecting your focus and mental clarity.
The product comes in five refreshing flavours — orange, watermelon, grape, cherry, and apple.
The Perks Of Buying From Kootenay Botanicals
In addition to our Same-Day Shipping, you also get to enjoy more perks and benefits when you place an order with us.
Membership Rewards
If this is your first time ordering from us, we also give you a one-time signup bonus of $10 or 200 points.
You also get to earn points each time you buy from us or post a product review. The points you earn can be redeemed as discounts on your future orders.
We also have a referral program where you can earn cash by referring us to your friends.
Lastly, we also offer great discounts on selected products as well as weekly contests.
Free Shipping
If you place an order of $200 or more, you get to enjoy our free shipping. This means that we ship your orders for free.
However, for orders amounting to less than $200, there's a flat shipping rate of $10, which is added upon checkout.
How To Get Started Ordering Your Edibles
We offer you the best collection of weed edibles in Canada. These are from trusted brands such as Mota, Twisted Extracts, Dose, Canndy, Dames Gummy Co., Medicated, and Ganja Edibles.
You'll find pure THC and pure CBD edibles, and you'll also find edibles with a mix of THC and CBD. These products come in varying potencies and flavours, so you can easily choose the product that will work best for your needs.
Here's the first step…
Add To Cart & Create Your Account
If you haven't created an account with us yet, then do so now. Just fill in the necessary data to register.
Once done, browse through our collection of weed edibles, choose the products you want, and then add them to your virtual cart.
It's that easy!
Next, simply confirm your shipping information and pay for your items.
Of note, if it's your first time buying from us, know that we do ask for proof of identity and age since we only ship our products to people of legal age. Our systems are backed by state-of-the-art security and this is for your protection, as well as our own as a business..
Sit Tight While Your Goodies Arrive
If everything's okay and we've verified your identity and confirmed your payment, we'll immediately process your order.
All items are placed inside a vacuum-sealed, opaque packaging to maintain freshness. This is then placed inside a discreet box to protect what's inside and, at the same time, ensure your privacy.
If you live in Vancouver or reside in the Fraser Valley area, then you can get our same-day delivery.
Just purchase before noon or 12 PM PST and choose the "Same-Day Delivery" option upon checkout. You'll receive your package anywhere between 4 PM and 9 PM of the same day.
Don't worry if you miss the cutoff time. We'll see to it that it gets delivered on the next business day.
Be sure to give us your local phone number though, so the courier can easily get in touch with you for confirmation and pick up.
Due to the Covid19 Pandemic, we have temporarily suspended signature upon delivery. However, we do require you to present to the courier a valid ID that matches your package's shipping address.
Frequently Asked Questions on Weed Edibles
If you haven't tried weed edibles yet, know that the effects of edibles are different from inhalable weed products.
Knowing this can help you avoid ugly side effects.
How Long Does It Take For Edibles To Kick In?
You'll immediately feel the effects of sublingual and inhalable weed products a few minutes after taking them. The cannabinoids are quickly absorbed by the cells, entering the bloodstream and producing fast onsets of effects.
This isn't the case with weed edibles though where you won't immediately feel the effects.
Since you'd be ingesting weed edibles, the cannabinoids will pass through the stomach as well as the liver first where they'll be metabolized before they enter the bloodstream.
This process can take anywhere from half an hour to as long as an hour and a half, depending on your metabolism.
So, if it's your first time trying weed edibles, we suggest taking it slow. Wait for at least half an hour for the effects to kick in before you take another bite.
This is actually a mistake many consumers new to weed edibles make. They immediately take another gummy or another bite simply because they "don't feel anything."
When the effects finally kick in, they can be pretty intense and uncomfortable, ruining the experience.
How Strong Of An Edible Should I Take First?
Again, if you're new to weed edibles, we suggest taking a low dose at first.
Let's say, for example, one gummy contains 10 mg THC. Then you can divide it in half, giving you 5 mg THC.
By starting with a lower dose, you can control the dose and avoid unpleasant side effects.
What Type Of Edible Should I Try First?
This depends on your preferences.
If you're after a boost in energy and focus, then choose edibles made with more THC. However, if you're after a bit of rest and relaxation, then choose those made with more CBD.
Whatever you choose, do not consume weed edibles if you're going to drive a vehicle or operate heavy machinery.
What Are The Pros And Cons Of Consuming Weed Edibles?
Weed edibles also have pros and cons.
If you're after immediate effects, then weed edibles aren't for you. As mentioned earlier, it takes some time before you start feeling its effects.
However, the effects of weed edibles last longer though, compared to the other methods. Because of this effect, weed edibles may be the best choice for those with chronic health concerns.
If you're after a discreet and convenient way of receiving cannabinoids, then weed edibles are a good choice. You only have to pop one in, and you don't have to worry about smoke, vapor, or the smell of weed clinging to you.
Weed edibles are also the perfect choice for those who can't tolerate the grassy flavour of oils and tinctures or those who don't want to smoke or vape weed.
Can I Order Weed Edibles Online?
Weed for recreational use has been legal in Canada since 2018. Adults of legal age (19 and older, but this varies per province) are allowed to buy, use, and possess up to 30 grams of weed when in public and up to 1000 grams inside their own private properties.
Adults of legal age are also allowed to grow up to four cannabis plants per household, provided that these aren't visible from public view.
It's okay to smoke outside your home as well. But be mindful though that you stay at least six meters away from the nearest door, window, or air intake.
It's also prohibited to smoke weed in places where children play and gather such as parks, playgrounds, school grounds, and beaches. Smoking in indoor public places such as restaurants, cafes, airports, bus stops, etc. is also not allowed.
So yes, you can definitely hold sweet MJ in your possession without penalty in Canada.
Is It Safe To Order Weed Edibles Online?
Yes; ordering weed online is safe, if you know what to look for.
You want your privacy and identity safely protected when ordering weed edibles online. So, check if the site's secure and uses the HTTPS protocol. This protects your personal information during transactions.
You also want to receive the products in perfect condition. So, in addition to buying weed edibles only from secure websites, you should also research about the shop's delivery and packaging process. This includes the type of packaging used to ensure the product's freshness and quality.
As of writing this, our SSL certificate is actively registered and our packaging is highly regarded as top-notch from our existing customers.
The items will be discreetly packaged as well.
Final Thoughts — How To Order Weed Edibles Online Safely
Are you ready to shop for your weed edibles now?
Then visit our store and check out our excellent collection of premium-quality weed edibles.
Place your order now and enjoy the perks, discounts, and freebies we give to our valuable members.