Sample 7 x 1 gram of flower to find your favourite!

Exclusive! Buy 4 Grams of Shatter & get 10% off!
How Does Our Same-day Weed Delivery Work in Vancouver?
You must be located in the lower mainland area.
Choose the items you want to have delivered from our menu.
When you checkout, select "Same-Day Delivery" as the shipping option.
Your order will be packed up and delivered by courier.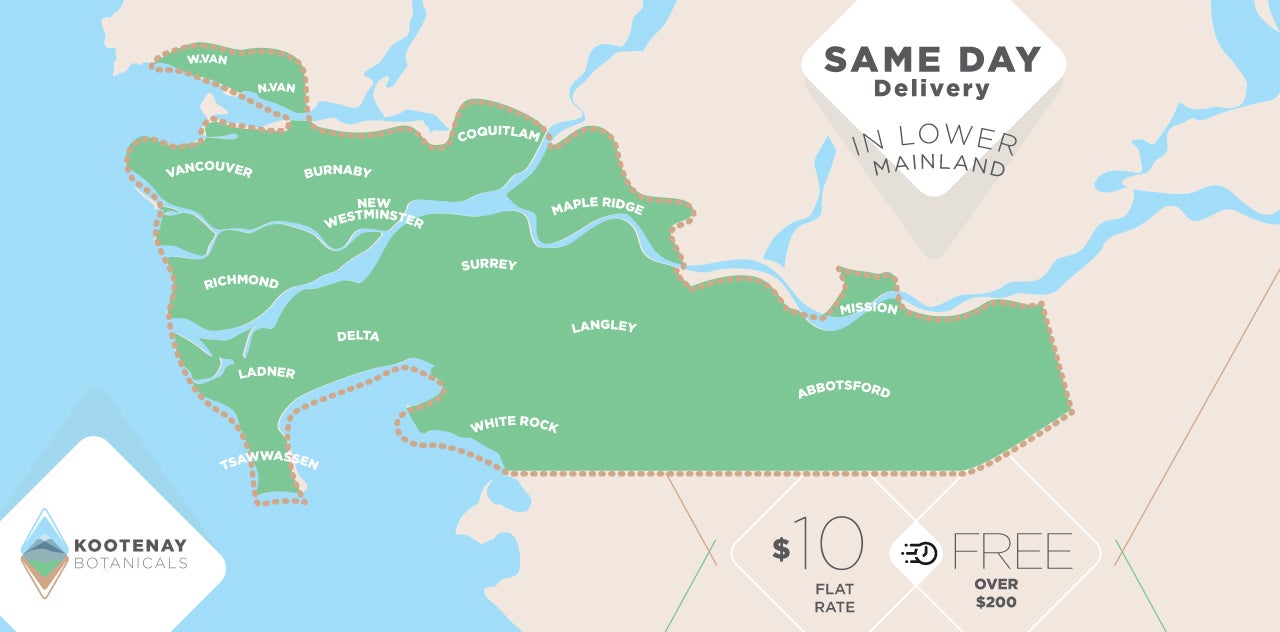 Weed Delivery Vancouver – Choose Kootenay Botanicals
Kootenay Botanicals offers same-day weed delivery in Vancouver. We offer our same-day delivery service in the greater Vancouver area; from Horseshoe Bay, down to Tsawwassen, all the way over to Abbotsford. When you are checking out, just select "Same-Day" as your shipping method, you can learn more about it by reading this article.
There are several factors to consider to ensure you purchase your cannabis products only from the best weed dispensary the Lower Mainland has to offer.
First off, there are numerous strains of marijuana available. The strains offer different potencies as well as levels of THC and CBD. You want to ensure that your cannabis dispensary has options when you shop.
However, you should not sacrifice quality for quantity. High-quality cannabis delivers the best effects and overall delightful experience. When you are paying good money for these strains, you want your weed to look and smell clean and fresh.
It is also imperative that the dispensary staff has in-depth knowledge of cannabis. They should understand the kind of effects each strain delivers as well as the difference between edibles, flowers, oils, and other forms of cannabis.
Customer care should be exceptional. The staff should be attentive and hospitable to customers. You want to feel comfortable with the product you end up purchasing.
With our weed delivery option, this is what you receive when you order; huge selection, top quality product, amazing deals and free customer care!
Dispensary staff who have little knowledge of marijuana may sell you inappropriate products. It is also essential to look for online reviews, the dispensary's official website, and social media pages.
You want to find out what other people are saying about the dispensary. You're better off avoiding a dispensary that has many negative reviews. If you find a dispensary with positive reviews from consumers, it's the one that offers premium products and top-notch customer service, like us.
Kootenay Botanicals is one of the leading dispensaries in Canada. We offer mail order services and local weed delivery. Besides our high-quality products, we strive to ensure our customer service is exceptional as well.
How Can You Use Our Vancouver Weed Delivery Service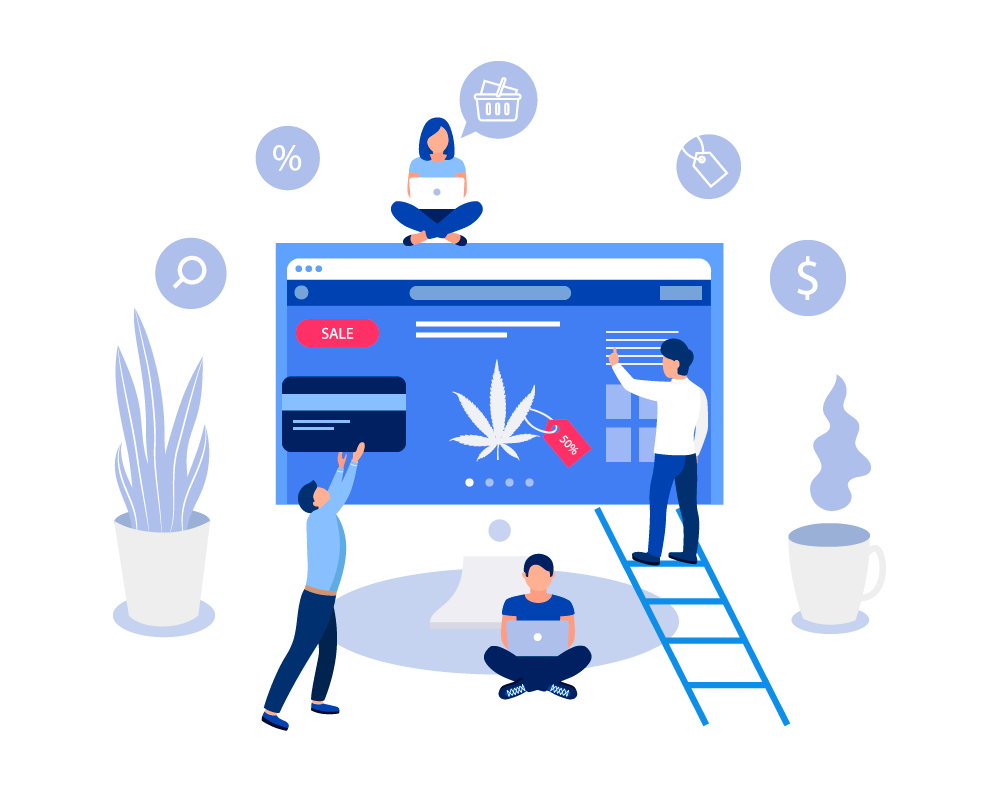 Look no further, you have found what you are looking for. Our cannabis delivery service has all the products you need.
AAAA Premium strain delivery
Weed vape delivery
Same-day CBD oil, tincture & topical delivery
Cannabis edibles delivery
Medical marijuana delivery
Where to Buy Same-Day Cannabis in Vancouver
Have you been rummaging websites looking for cannabis delivery in Vancouver? You have come to the right place. We offer the finest craft AAAA weed, with free cannabis delivery over $200.
For a cannabis enthusiast, 19 years or older, whether you live in Vancouver or are just visiting the city, knowing where to purchase premium strains should be one of your priorities. Instead of wasting time and effort browsing different websites, you can head to Kootenay Botanicals.
This is one of the best cannabis dispensaries online, it is the place to go when you want to find premium AAAA weed. Kootenay Botanicals has been providing access to a range of high-quality cannabis products for more than a decade.
They have a team of certified weed experts who carefully select the products they have on offer. Our dispensary realizes it's exceptional customer care through in-depth knowledge of marijuana and the science around it. All orders get the utmost attention, so you get your order with the right items! On top of that, we offer same day weed delivery in Vancouver; you can't beat that!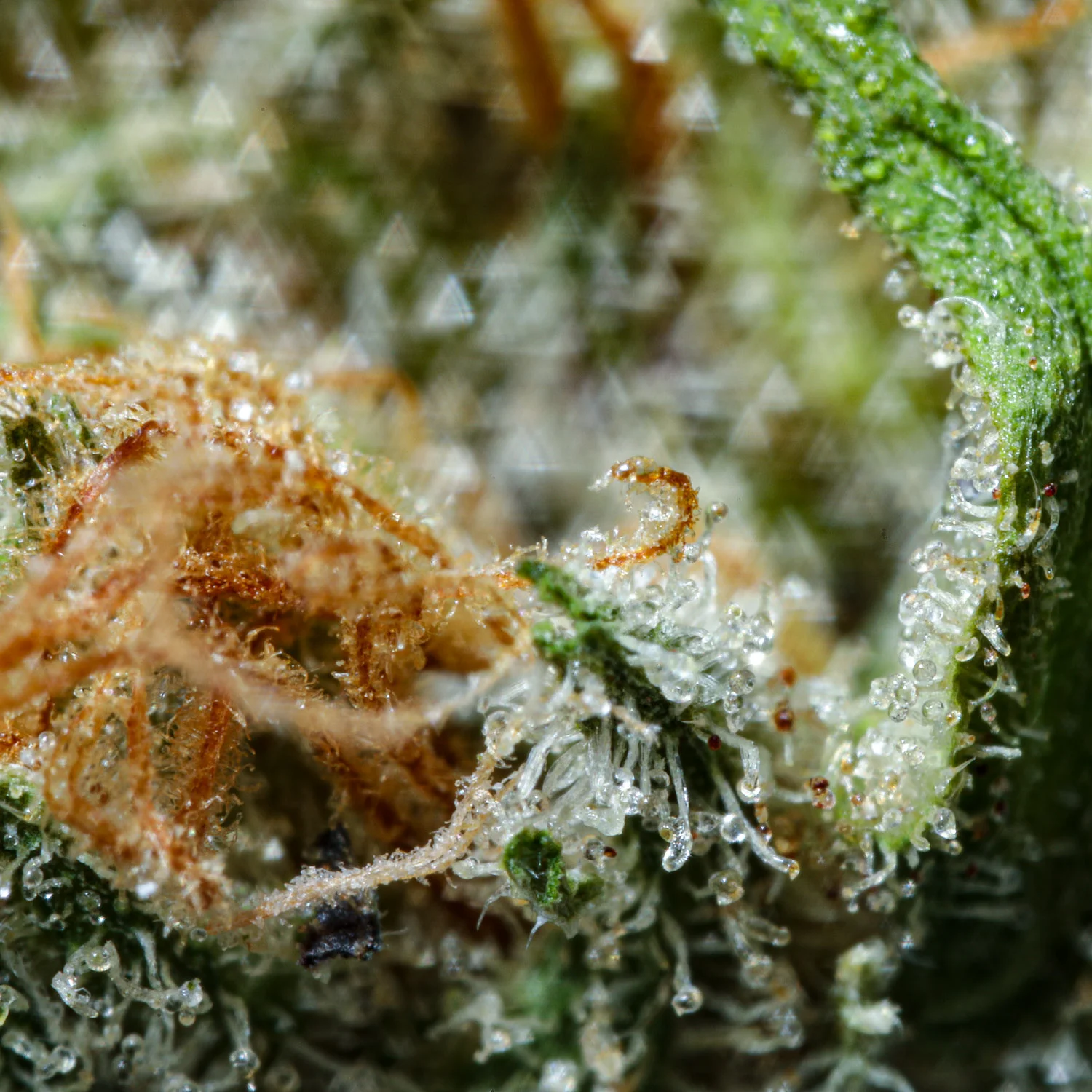 Where to Buy Same-Day CBD Oil in Vancouver
Cannabidiol (CBD) is one of the dominant compounds in weed. It has medicinal properties, and people have used it therapeutically for many years. One of the primary reasons people in Vancouver purchase CBD products is to alleviate chronic pain.
Another major reason is to deal with anxiety. Those struggling with various forms of seizures can also benefit from this cannabis product. Studies suggest that CBD can lower the number of seizures that epileptic patients experience.
Here's a list of diseases and health conditions that the substance can help to manage or treat:
Epilepsy
Chronic pain
Depression
Insomnia, anxiety, and stress
Diabetes
Certain cancers
CBD is available in many forms, but CBD oil provides the easiest and most popular way to use it. If you are looking to purchase CBD oil from an accredited source in Vancouver, Kootenay Botanicals should be your go-to dispensary.
Kootenay Botanicals is the most trusted supplier of the purest CBD oil and other CBD products. They allow you to buy your products online and then ship them to your doorstep in discreet packaging.
You can find the best CBD oil Vancouver has to offer from our online delivery dispensary.