Table of Contents
Are dragons real? What does the rest of our brain do? Did the chicken precede his delicate oval counterpart? Like with these big, unanswered questions, many cannabis consumers around the world still don't know the answer to the age-old mystery of cannabis white ash.
Is cannabis leaf white ash good? Is black ash bad? Why is weed ash black to begin with, and is it harmful? These are the questions we're here to answer.
You may have heard the popular myth that white ash equals higher quality weed while darker or black ash means it's not as good. But is this the truth? Does the colour of cannabis ash truly indicate the classification of the weed or strain?

Cannabis Flower Quality
With the growing number of brands, growers, and cannabis strains available to consumers, how can we know which flowers and products are the best?
Much of cannabis smoking preference is subjective (and based on desired effects, aromas, flavours, etc.), but it's still important to know how to distinguish the good, high-quality weed from… well, the bad. 
That's where understanding and reading weed ash colour comes in.
No matter what you're hoping to get out of the cannabis experience – the need for clean cannabis is something most can agree on. So,  how do you know if the cannabis is clean, pure, and prime rate? Analyzing the colour of the ash is one of the ways to determine the quality of the flower you're planning on smoking. 
The Weed Ash Myth Debunked
Smoking cannabis products that are "unclean" can cause some to experience a sore throat afterwards. This usually means that the flushing and curing processes left something to be desired.
When cannabis is grown, harvested, and packaged, the chemicals used in the growing process are supposed to be removed and cleaned from the product to be consumed. Unfortunately, when some of these substances are left over, consumers sometimes experience adverse effects like headaches, throat pain, or irritated lungs.
Take a close look! The colour of the weed ash can determine if leftover chemicals are the reason you suddenly reached for throat lozenges following a toking session.
How to Read Cannabis Ash: White Ash and Gray or Black Ash
The best way to check the quality of cannabis flower is to observe cannabis ash characteristics. And yes, this experiment is as fun as it sounds. To test the ash colour of cannabis, just light up a joint and observe the burn.
White Weed Ash
After burning the joint, check out the ash that is produced from the burn. If the ash produced is a very light gray or very white – you're likely in the clear as far as being exposed to leftover substances from an unclean growing process. 
White / Grey Ash = Clean Cannabis
Black Weed Ash 
If the ash that burns from the cannabis flower joint is darker grey, or closer to black, be aware that this could mean the cannabis flower has remaining chemicals from the curing portion of the cultivation and production routine. 
The darker ash is indicative of a lower quality cannabis, thanks to a less rigorous curing and flushing process by the growers.
These unwanted substances, such as mineral content present in the cannabis, are what cause the ash to burn darker than usual. The ash burns black because the farmers or workers cultivating the plants did not sufficiently remove the sugars and minerals during curing and flushing.
Black / Dark Grey Ash = Unwanted Substances
Most cannabis ash will appear white or gray. Sometimes, it can be hard to tell where to draw the line between perfect quality ash and inching toward unacceptable.
When checking the colour and consistency of the ash, look for fine, light, powdering, and fluffy ash that separates easily from the joint with tapped lightly. Hard or grainy ash could indicate the presence of pesticides, fungicides, or other unwanted chemicals and substances.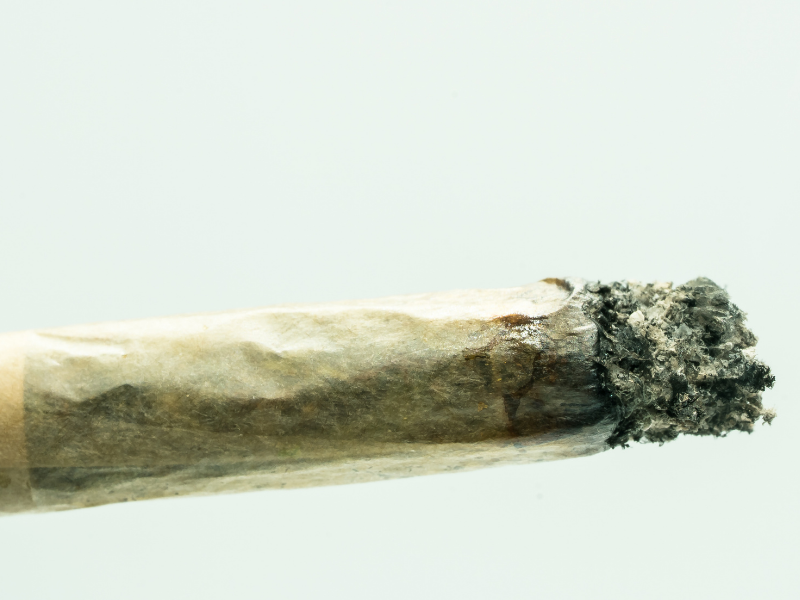 The Science of White Ash and Black Ash
The reason that some cannabis burns lighter and some burns darker isn't black and white. However, here's a basic scientific breakdown of why you may be seeing various ash colours and why it relates to the quality.
Higher combustion rates are required for ash to burn white. The presence of chlorides prevents a full combustion during burning. This also limits consumers from getting the whole experience of the aroma and flavour profiles present in the flower.
Carefully harvested cannabis plants with manipulated chlorofyll degradation and sugar transformation will often yield whiter ash. Basically, experienced and smart growers who put in the time and care will produce better products. Kind of a no-brainer!
The History of Reading Ash
Cannabis consumers and weed smokers aren't the first to use the ash-burning method as an indicator of product quality. Tobacco smokers have observed ash colour since at least the 20th century. Historically, consumers tested cigars by observing the ash colour left behind in the tray, with lighter coloured ashes indicating high-quality cigar products, often from Cuba.
When it comes to cannabis flower ash, the colour does make a difference. It's not just a myth!
The colour of the ash produced tells the story about the steps and processes taken in the growing, cultivating, production, trimming, curing, and even packaging of the products. Flowers managed properly will be handled with care and attention during drying and curing, preserving the precious trichomes.
Like tobacco, cannabis produced by lower standards can sometimes contain additives for longer-lasting freshness. It goes without saying that we DO NOT want additives or chemicals added to the products being consumed.
While making the cannabis experience all about checking ash for colour and quality can weaken the fun, seeing gray or black ash consistently might mean it's time to switch to higher graded products (which means ordering from a reputable dispensary). 
How to Check Cannabis Quality: Other Methods

Besides the colour of the ash, there are other ways to check the quality of cannabis flower. Along with observing the ash colour, savvy consumers also pay attention to details of the product to know if what they're getting is up to par.
Some things to look at when checking for cannabis quality include:
Weed Texture and Colour – Different strains and types of cannabis products will vary in colour and texture. Avoiding anything that looks like an "off" shade of brown or yellow is a good start. Be aware of mold, too, as lower quality cannabis will have less natural preservation qualities. Mold can also be a sign of incorrect packaging and storage.
Aroma Strength and Quality

– Quality cannabis products that have been harvested and cured with care will smell fresh and aromatic. Avoid weed that gives you hay and dead grass vibes.
Understanding the characteristics that appear in high-quality weed is an essential skill for anyone who wants to call themselves a connoisseur. With so many new brands, strains, and artisanal and craft growers popping up, knowing the good from the bad is necessary for a positive cannabis smoking experience.
Where to Buy High-Quality Cannabis Flower
Checking the colour of cannabis ash should be used as a double precaution. That means that you should already be buying good weed from a dispensary you trust. Checking the ash is just a way to verify that the product purchased is up to snuff.
Here are a few top-notch cannabis products and flowers to try:
Final Thoughts on Cannabis and White Ash 
While there are plenty of ways to tell if cannabis products are of high (or at least decent) quality, observing the colour of the ash is a popular method. 
Despite the science and history behind cannabis growing, there's still an air of mystery surrounding weed products. But with some research (ie, experimenting with various cannabis products), and experience, anyone can become a top-level cannabis consumer.
As for checking your ash for colour, texture, and consistency, the test can be a fun add-on to your ritual and give you peace of mind that what you're smoking is clean and pure.
The truth is that quality does matter. So, if you're consistently seeing black ash at the bottom of your bowl, it may be time for an upgrade.
Sources:
News Green Flower: How To Read Your Cannabis Ash
Where's Weed: Gray or White: Does the Ash Colour Represent Quality Cannabis?
Cannabis Business Times: What is the Science Behind White Ash and Black Ash?
Kootenaybotanicals.com