Table of Contents
There are a lot of ways you can enjoy weed, but if you want to get the best value for your money, nothing beats good old-fashioned hash. It's made from the cannabis resin, so hashish or hash has a smooth taste and an extremely potent high.
If you're trying out ways to smoke hash for the first time, here are some basics to follow to get the most out of your experience.
How to Smoke Hash
One of the great things about hash is that there are several methods in which you can make and consume it. Extracted from the resin of the female cannabis plant, hashish can be turned into powder, pressed into bricks or balls, or processed into concentrated oils and rosin.
It can also be rolled into a joint and smoked, although you can use a pipe or a bong instead.
In addition to classic smoking methods, you can now vape hash using a tabletop or portable vaporizer or using a dab rig. You can also mix it with edibles (to be eaten), just like with weed, although many enthusiasts swear that smoking it is still the best way to experience hash.
Smoking Hash in a Pipe or Bong
A glass bong or a pipe is arguably the best way to smoke hash for beginners. Unless you're adding some flower, though, we recommend placing a screen at the bottom of the hash pipe or bong bowl. Check out types of bongs to use here. We also recommend priming the hash for a better, cleaner smoking experience.
To "prime" the hash, place it on a spoon and gently light it with a conventional lighter. You may need to blow on the hash gently to get it burning into a steady ember. Once it is soft and crumbly in texture, take the hash and carefully sprinkle it into your pipe or bong. Inhale while the hash is still burning gently.
How to Smoke Hash in a Bowl (Pipe or Bong):
Break the hash into small pieces so there is more surface area to burn.
Make sure you have a screen or some leftover ash in your bowl to keep the hash from getting sucked through.
Start drawing on the mouthpiece as soon as you light the hash, or just before.
Release the choke on the pipe or pull the bowl from the bong to draw in the built up smoke.
The hash will continue to roast in your bowl until it's completely burned to ash, so you can take another inhale if you like.
Smoking hash in a bong can be more intense than a draw from a pipe. If it's your first time take a small draw using a pipe to preview the effects.
Now you know how to smoke hash in a bong and how to smoke hash in a pipe, but did you know you can smoke it with weed, as well?
Adding hash to weed is said to result in a smoother taste. It works on the increased airflow and exhibits less waste compared to burning a bowl of pure hash. Mix small pebbles of hash with weed, prime it, and smoke it as normal. Another option is to place a small piece of hash on the top of a bowl.
You can also mix and smoke hash with tobacco using the same process, although it should be noted that the potential health risks of smoking tobacco remain complicated. Sticking to cannabis flower is your best bet!
After you are done smoking, clean your bong as soon as possible. Once burnt, hash turns into a black and tarry substance that seeps into the sides of your pipe or bong.
It can't be removed with soap and water. Instead, you'll need vodka or similar high-proof alcohol to wipe the inside of the bowl clean of residue. You can also allow the burnt hash to dry out and scraped off with a razor, but this requires some care to avoid damaging your bong or pipe.
Smoking Hash in a Joint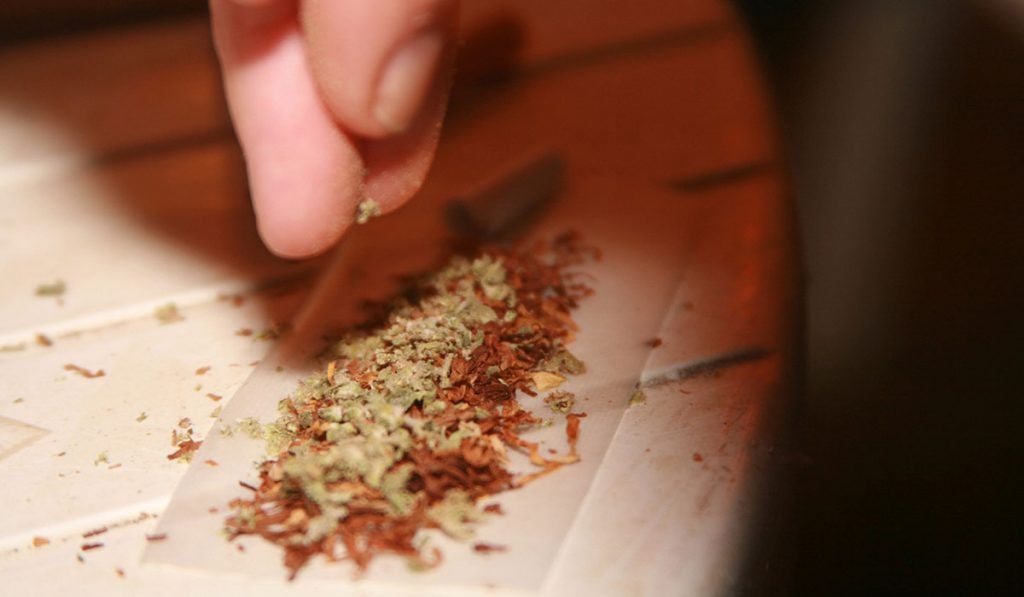 If you can't be bothered to clean up your gnarly bong, you can also mix it with cannabis flower and roll it into a joint. Smoking a joint of hash and marijuana combined is especially potent, so if you're feeling a bit adventurous, you may want to try it.
Making a good hash joint all comes down on layering. Place a horizontal paper on a hard surface and add a layer of the ground flower. Then, crush or break off small pebbles of hash for the second layer and top it with a light layer of the flower.
If your hash is the malleable type instead of the dry, crumbly kind, you can choose to roll it into a snake and pepper the flower around it. Either way, roll it up tightly afterward and light up as you would with a regular joint.
Aside from weed, you can also opt to mix your hash with tobacco. Rolling tobacco is best for this purpose, but you can use regular tobacco, as well. The process is the same as with weed, except that you'll need to add a filter tip at one end.
Sprinkle half of the tobacco on the rolling paper first, followed by the ground-up bits of hash, and then the remaining tobacco. Make sure the joint is rolled up tightly and then smoke as normal.
Vaping Hash
If you wanted to vaporize hash previously, you had to heat a pair of metal butter knives over a stove and use it to melt bits of the hash. Aside from the occasional burnt skin blunder, it turned out to be a tedious process.
Thankfully, due to advances in technology, you now have the easier and safer option of vaping hash in an electric vaporizer. Can you vape hash? Yes, there are two ways to vape hash: through a handheld vape pen and a tabletop vaporizer.
Hash vape pens are specially designed for use with coarser hash particles but work in the same way as a regular vape pen. Break up the hash into small bits or, if your hash is a hard brick or stick, prime it over a flame and load it into your vape. We also recommend adding degummed hemp fibre on top of your hash to absorb any residue after burning.
Tabletop or volcano vaporizers are giant versions of vape pens and work similarly. However, unlike vape pens, you can mix dry flowers with your hash this way. You also have more control over the heating levels with tabletop vaporizers, which you can use to achieve a smooth vapour, depending on the texture of the hash.
We also recommend using a separate bag for the hash, as the residue can accumulate quickly and will affect the flavour of your vaporizer.
Can You Dab Hash?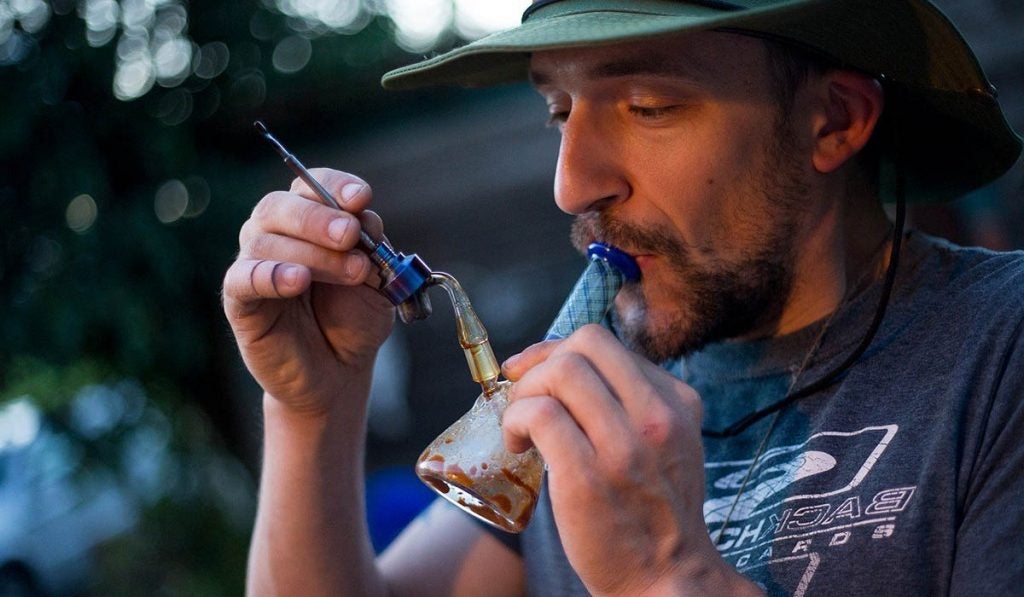 If you're wondering whether you can use a dab rig for the hash, the answer is yes. This is similar to using hot knives, the original form of dabbing!
Smoking hash with hot knives or a dab rig is easy. The downside when you dab hash, you have to clean your banger or e-nail more often than when dabbing concentrates.
Dabbing hash is like vaping, wherein the cannabinoids enter the bloodstream almost immediately through the lungs for a near-instantaneous high. Also, dabbing hash is entirely smoke-free and wastes very little of the product.
To use the dab rig, heat the nail until it is glowing hot and let it cool for ten seconds. Take a tiny amount of hash, place it on the heated nail, and inhale the vapor until the dab rig is empty.
Full-melt or bubble hash is the best for this, as the dab rig will quickly vaporize the THC without burning it, resulting in a smooth hit.
After dabbing, you will also need to clean the glass banger or nail. The organic material left over will give your next dab a burnt taste. It is especially important if you are using the regular hash instead of the bubble kind, as it results in increased burnt residue on the nail.
It should be noted that dabbing hash is not recommended for first-time users. The high THC content generated from vaporizing with dab rigs is potent, and dabbing has been known to greatly increase tolerance.
Also, dabs run hotter than a regular vaporizer, which can result in potentially ill effects on your lungs if used too heavily and too often.
Smoking Hash FAQ
Q: What's the best way to smoke hash?
A. Since there are so many ways to smoke hash, it comes down to circumstance and personal preference. Now that you know different ways how to smoke hash, you should be prepared for any situation! The best way of smoking hash is up to you, but sprinkled in a joint adds great flavour and effects.
Q: Is it safe to smoke hash?
A. While it is more potent, hashish shares the same effects as marijuana, although less would need to be consumed to reach the same high. Experts in the UK have also reported that hash can be less harmful than tobacco and alcohol. Make sure you smoke hash using a listed method or some similar form. You don't want to smoke some random chemicals.
Q: What's the difference between hash and marijuana?
A. Marijuana is harvested from the dried leaves, flowers, seeds, and stems of the cannabis plant. Hash is exclusively taken from the resin generated by the cannabis flower. It contains high amounts of cannabinoids, so hash tends to have a much higher potency than marijuana.
Q: How strong is hash compared to marijuana?
A. While it has more concentrated cannabinoids than regular cannabis, the strength of your hash depends on its purity and the quality of the starting material. Hash products available today are known to be 40% stronger than marijuana, although pure hash oil can reach up to 80% potency.
Q: Can you make your own hash?
A. Thanks to recent legalization efforts in the United States and other countries, hashish is now easier to make at home. There are lots of resources on the Internet that can teach you the processes of making hash, such as dry extractions, compressing hash into bricks, or how to make bags for water extractions.
The ingredients and equipment for making your hash are typically inexpensive and can be found in most hardware stores.
Q: Where did hash come from?
A. The word "hashish" comes from the Arabic word for "grass." Scholars have found evidence of hashish being used as far back as 900 A.D., although it was not until the 19th century that it made its appearance in the western world.
Today, hash and hash oil are among the most common types of cannabis consumed in Europe, and it is rising in popularity in North America.