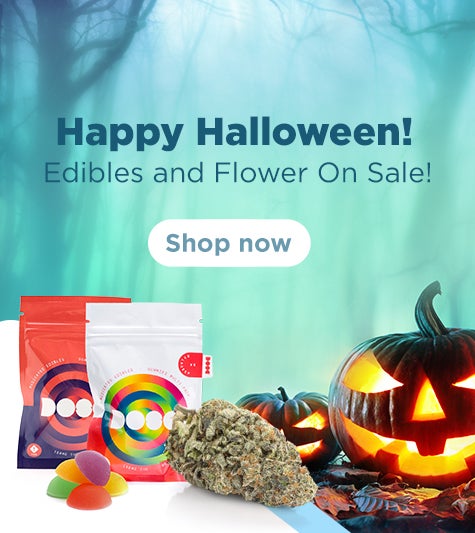 The Best Halloween Weed Deals in Canada
Kootenay Botanicals is the perfect place to find Halloween weed deals online. We appreciate all of our spooky members who made this possible, and we've put together an incredible list of Halloween deals just for them. Our selection includes premium strains from AAAA Craft Cannabis collections like Skookum and Oso Fuego, as well as budget-friendly buds that are priced below $99 per ounce. No matter what your budget is, we have the perfect strain for you. So come on over to Kootenay Botanicals and get your Halloween weed deals before they are all gone!
Sample 7 x 1 gram of flower to find your favourite!
Searching for More Exclusive 
Cannabis Offers
? 
To start off, you can get a discount just by signing up with Kootenay Botanicals. Get a $10 credit added automatically to your account.
Get weekly emails with the best weed deals in Vancouver, coupon codes and more. You'll be the first one to know what goes on sale. Besides creating an account with Kootenay Botanicals, you can share the experience by referring new members. Get $25 for both you and your friends! The more friends you refer the more you'll save. Another great way to get more dollar savings is by leaving a review on our products. Every review you leave will earn you more points towards your future orders. So don't forget, all you need to do is create an account, refer your friends and family, and leave some reviews. Join Kootenay Botanicals today!
Halloween Weed Deals Online – Craft Cannabis Delivery
If those deals aren't enough, we've got even more! Available all year long, check out the best weed deals in canada.
Mix & Match Selection: From crafted flowers to powerful concentrates, mix and match numerous cannabis products for an affordable price. It's the best deal for you to try a little bit of everything.
On Sale Page: Find great value deals on ever-changing products — save up to 50% off!
Budget Buds: The perfect deal for every flower lover out there. Find top-shelf strains at a discounted price.
Build Your Own Ounce: Get more for less on everyone's favourite premium strains!
One booklet with 50 filters.

Pure Hemp Unbleached Rolling Papers

Smoking Brown Unbleached Rolling Papers

AAA Indica Dominant THC: 23-25%