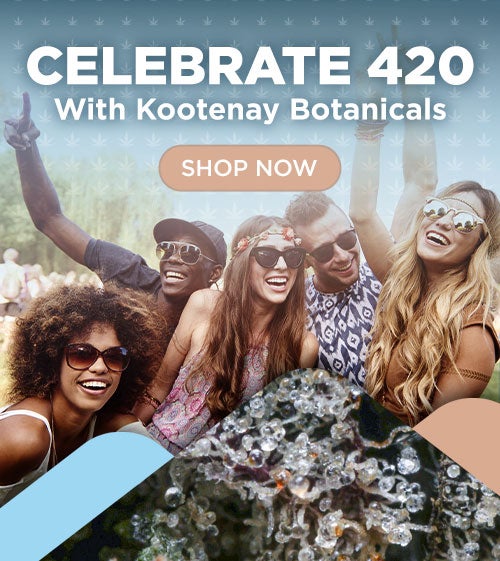 The Best 420 Sales in Canada
Celebrate the biggest day in cannabis with Kootenay Botanicals! Be ready for our annual 420 Sale that will make your hard earned money go even further than last year's sale did… We have the best 420 Sales in Canada! To show our appreciation for all of loyal members who made this possible we've put together an incredible list featuring some premium strains from AAAA Craft Cannabis collections like Skookum & Oso Fuego as well as budget friendly buds below $99 an ounce.
Treat yourself today by taking advantage before these deals are gone forever!
$

21.25 –

$

153.00

$

25.00 –

$

180.00

AAA Indica Dominant THC: 19-21%

$

20.00 –

$

144.00

$

25.00 –

$

180.00

AAA Indica Dominant THC: 18-20%

AAA Indica Dominant THC: 19-21%

A Indica Dominant. THC: 14%

Contains: 1g Pre-Roll Cone with 1g Boveda Exclusive! Buy 3 or more and get 25% off!
Searching for More Exclusive 
Cannabis Offers
? 
To start off, you can get a discount just by signing up with Kootenay Botanicals. Get a $10 credit added automatically to your account.
Get weekly emails with the best 420 sales in canada, coupon codes and more. You'll be the first one to know what goes on sale. Besides creating an account with Kootenay Botanicals, you can share the experience by referring new members. Get $25 for both you and your friends! The more friends you refer the more you'll save. Another great way to get more dollar savings is by leaving a review on our products. Every review you leave will earn you more points towards your future orders. So don't forget, all you need to do is create an account, refer your friends and family, and leave some reviews. Join Kootenay Botanicals today!
420 Sales in Canada – Craft Cannabis
Where to find the Best 420 Sales In Vancouver, Canada
4/20 events are a great way to meet up with friends or make new ones. Whether you consume cannabis products or not, there's plenty going on outside so don't miss out!
The Pawn Shop – The Pawn Shop taco and tequila bar's patio is a great place to enjoy some 4/20 munchies while vibing to good music and connecting with the cannabis community.
Sunset Beach – April 20th isn't the only day you'll find cannabis lovers at the popular city beach. Head down to sunset beach, catch some rays, chill in the sand, and discuss your love of the plant.
Stanley Park – An expansive area of preserved nature with trees, walking paths, and water views – what could be a better place to enjoy some cannabis culture company?
Granville Island – Home of several shops selling funky paraphernalia, hammocks, and beer on tap, the market area in the city limits is a great place to hang out and discuss your favourite cannabis products and experiences.
Murals Tour – Take a day to explore urban Vancouver, visiting some of the city's  best murals. The tour will let you relax and follow your guide, taking in some incredible street art.
Sample 7 x 1 gram of flower to find your favourite!